About me ...
(this module is still coming up)
Hi
I am surprised that you really want to know about me. There is nothing interesting here.
May be you would like to
| | |
| --- | --- |
| | to see my resume |
| | read about mylike my little trips here and there |
| | go through the little collection I have on my favourite characters : Tintin and Calvin & Hobbes |
| | know about the books that I read and enjoy |
| | may be you will be interested to go through my ramblings from time to time ( are you that bored ??). |
But if you are still really interested to know about me :
I am M.Rajavel. I come from a place called Virudhunagar near Madurai ( a very famous temple city ) in Tamil Nadu in India in Asia.Okay : I'll make this simpler for you :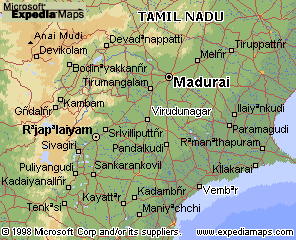 The coastal village Vembar is my ancestral place : every year we go there to offer prayers to our family deity (I love those trips)
I have education in Electronics engineering and Product design : and am working as a Web page designers. Sounds funny ?? Have a hearty laugh.
I used to work in a Government of India organisation: National Informatics Centre in its MultiMedia Applications and Presentations Division. NIC forms the back bone of informatics infrastucture of Government of India
Then I worked in NIIT ( a software and knowledge solution organisation ) I was a part of NIIT's E-Com Centre Of Competence which takes care of idetifying new technologies, get the work force trained in it and stuff like that ! I was in the Visual Communication Group of this centre ! I do Web graphics and User Interface Design
Now I work with Infosys ( A software soutions company ). I am with the Technology focus group of theri Asia PAcific operations division !
That's it : even I am bored.